Sydney's Guttering Specialists
We offer gutter installation, repairing, replacement and maintenance services all over Sydney.
Our Services
We can assess your gutters for damage and carry out minor repair works while cleaning gutters, including: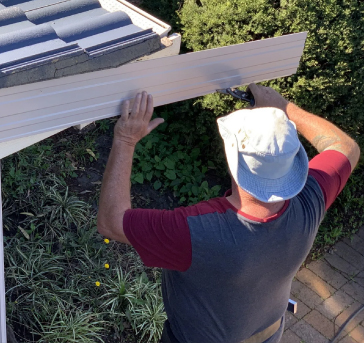 We are a family-owned Sydney-based guttering company, who pride ourselves on a hard earned reputation built around our core values of honesty, integrity and reliability.
Respected
Are you looking to replace your guttering and downpipes? Gutterline have the expertise and diligence to undertake the installation of downpipes and gutters on your home, no matter where you are in Sydney. Our highly skilled tradesmen specialise in all aspects of guttering.
Experience
You will be dealing with a company with over 25 years experience in the industry. We have the understanding and skills to give you the best result. We not only offer a 20 year Duracote® written guarantee on materials, but a further 7 year guarantee on workmanship.
Quality
Gutterline use only the highest quality materials. We install Colorbond® steel, Duracote® or continuous aluminum from local trusted suppliers. Our tradesmen are highly experienced skilled professionals.
Sydney's Best Guttering Specialists
At Gutterline we have been providing the residents of Sydney with high-quality, effective, and affordable gutter services and solutions for their homes, buildings, and properties for over 20 years.
Our team is qualified, experienced, and trained to be working with every kind of guttering system, from residential homes to commercial properties. Using state-of-the-art equipment and techniques, our team will ensure that your gutters are maintained properly and in the best condition possible.
Your gutters are one of the most important, and often overlooked, areas of your home, so it pays to work with an expert in the field, like Gutterline. We offer the full solution, so whether you're installing new gutters, need to repair your current ones, or just need a little help maintaining them, our experienced team can get the job done.
Request A Quote Now
Local Australian Owned Company
Over 20 Years Trade Experience
Hand-Chosen Tradesmen
We Take Pride In Everything We Do
Direct With The Tradesman
Competitive Pricing
What to Do to Your Gutters Before and After a Storm
Maintaining your gutters is an important aspect of protecting your home from water damage caused by storms. By taking the…
Read Full Article >>
Must-Have Gutter Cleaning Tools if You Love to DIY
The typical gutter is probably holding leaves, twigs, branches, animal refuse, insects, bird nests, and roofing materials that have built…
Read Full Article >>
Gutter Guards vs Ember Guards: What's the difference?
Australia has a lot of bushfires, thus areas that are at risk must be safeguarded. Ember attacks, which typically start…
Read Full Article >>
Our Gutter Services Are Available
All Over Sydney
Cities We Serve
---
Hills District
Inner West
West Sydney
South West Sydney
South Sydney
Northern Suburbs
ST George
North Shore
Eastern Suburbs
Sydney